Una raccolta di disegni senza storia
• ORDER HERE •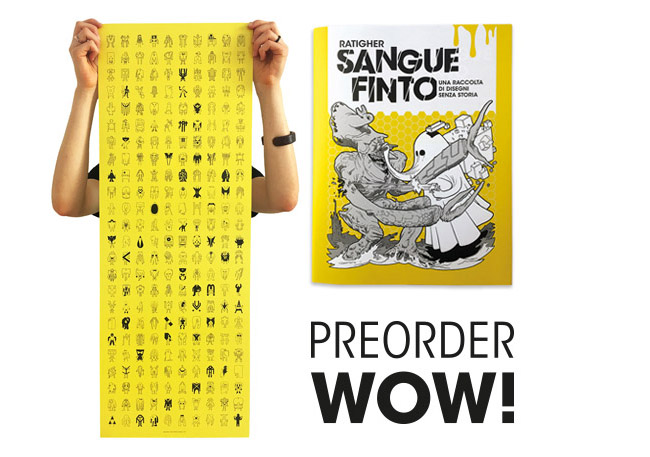 SANGUE FINTO, il nuovo volume di RATIGHER, sarà ufficialmente disponibile dal 9 ottobre.Effettuando il PREORDER, riceverete un poster esclusivo (29,7×88 cm) contenente 240 mostri originali creati dal nostro autore di fumetti preferito. Il poster non sarà in vendita successivamente, ma è un regalo riservato a chi eseguirà il preorder. Le spedizioni avranno inizio dal 9 ottobre.
SANGUE FINTO è una raccolta di illustrazioni presentate in un rigoroso bianco e nero privo di ogni artificio, che mette in luce pagina dopo pagina i molteplici universi di RATIGHER, restituendo la peculiarità del segno di uno degli autori di fumetti underground più visionari degli ultimi anni.
Un volume di oltre 160 pagine che costituisce la documentazione essenziale di qualche lustro passato sulle tavole da disegno a illustrare l'assurdo. Un'antologia "senza storia" che attinge non solamente dai fumetti che lo hanno reso celebre, ma anche da locandine, copertine di dischi e riviste, T-shirt oltraggiose, pagine tratte da pubblicazioni patinate o semplicemente fotocopiate… Sogni dolci come il diabete o scuri come la pece.
[ ENG ]
SANGUE FINTO (Fake Blood), RATIGHER's new book, will be available October 9th.
PREORDER now, and you will get this exclusive poster (29,7×88 cm) with 240 original monsters created by our favourite cartoonist.
The poster will not be on sale, it's a gift for preorders only. Begins Shipping October 9th.
SANGUE FINTO (FAKE BLOOD) is a collection of illustrations in a rigorous black and white without any artifice, which presents page after page the multiple worlds of RATIGHER, showing the peculiarity of style of one of the most visionary underground comic artists of recent years.
This volume of over 160 pages is the essential documentation of two decades spent bending over the sheets of drawing paper to illustrate the absurd. An anthology "without words" that collects drawings not only from the comics that have made him famous, but also from posters, records' and magazines' covers, outrageous T-shirts, pages from nice publications or simply photocopied 'zines… Dreams sweet as diabetes or dark as pitch.